For Employers
For Employers
Skip-a-Long Benefits Your Business
Employees with children need early care and education in order to work. Having high-quality early care and education creates stability for families. Support a Skip-a-Long Center to:
Return $8.60 of every $1 invested to the community
Decrease employee absences by about 30%
Reduce employee turnover by as much as 60%
Advertise to more than 1,000 Skip-a-Long families
---
Be a Business Buddy
Building a lasting connection and relationship with a specific Skip-a-Long Center will have impact far beyond today. Whether it's close proximity to your location or numerous employees have enrolled children at a Skip-a-Long Center, there are opportunities to partner! Employees can:
Volunteer - Snuggle babies, read to children, complete a group beautification project or mentor for academic projects such as First Lego League
Donate - Provide in-kind support through clothes and materials, sponsor an event or donate dollars. All donations are tax deductible.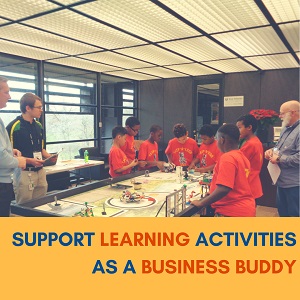 Get Started Today
Engage your employees through Business Buddies. Contact us to explore partnership opportunities and ideas.