Provide Care in Your Home
Provide Care in Your Home
Provide Care in Your Home
Provide Care in Your Home
Starting Your Home Child Care Business
Are you a licensed, in-home family child care provider? Do you offer multiple shifts of care, flexible hours, care on weekends or holidays, or care for children with special needs? Are you willing to accept children whose families receive child care assistance through the State of Illinois? Do you want to improve the quality of your child care business and learn new ways to educate and inspire children?
If you answered YES to any of the above questions you may be a perfect candidate for our Home Child Care Network!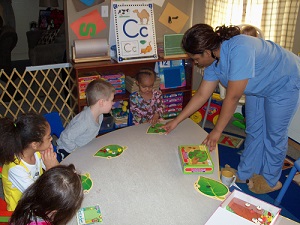 What can you expect from your Home Child Care Network Coordinator?
Your Home Child Care Network coordinators are professionals dedicated to helping you take your in-home child care business to the next level. As part of our free, nonprofit program, you can expect your coordinators to:
Provide you with age-appropriate curriculum, materials, and activities at regular courtesy home visits
Provide you with personalized services and suggestions to improve your in-home business
Help you obtain high enrollment by referring families needing childcare
Assist you with IDHS paperwork
Facilitate your prompt monthly IDHS reimbursements directly through the SAL Family and Community Services' in-house eligibility department
Support you through the ExceleRate Illinois Quality Rating Scale process
Get connected to one of our coordinators to see if you can be part of our network by checking out our informational brochure today! Then Contact us to see if you qualify for the free Home Child Care Network program.