Creating Connections - Positive Intent
Creating Connections - Positive Intent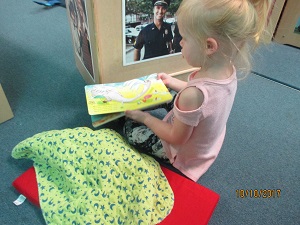 Highlight: Zebras Classroom (Twos) - Moline
Pictures on the Wishing Well came up missing and the classroom staff couldn't figure out why.  A child in the classroom acknowledged she had taken these pictures home.  By using the skill of Positive Intent, the classroom staff knew this child had low attendance and that she must have missed seeing her friends during the week.  The solution – the staff created a classroom picture to give to the child to keep at home!
Connection: Positive Intent
Positive intent is our choice to see the best in someone.  Rather than Zebra staff saying "She stole our pictures, she is a thief!"  They used positive intent and said, "She must really miss her friends when she's not at school."
Attributing positive intent allows you to frame your mind around the actions or behavior you see in front of you.  This helps you to focus on what skills to teach the child based on the underlying need being displayed.