Creating Connections - Executive State
Creating Connections - Executive State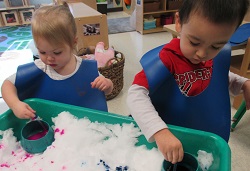 Highlight: Penguins (Twos) - Moline
A child was feeling angry, and on his own, he went over to get the sensory box on top of the cube and utilized the calming sensory bottles.  He was successful in calming his body down and reentered play.  The next day, the child saw another friend having a difficult time managing his emotions.  The child went over to the cube and brought the sensory box to the other child.  The child helped his friend use the sensory box and self-regulation ensued.
Connection: Executive State
When children are safe, connected, and able to self-regulate, they can enter the executive brain state.  In the executive brain state, children are able to problem solve and is the optimal brain space for learning.  In the executive brain state, children are able to access their own brilliance.  Children are empowered to change and make wise choices.  An integrated executive state frees us from past conditioning, attunes us to the feelings and experiences of others, enables us to remain focused enough to set and achieve goals, and allows us to consciously respond instead of automatically react to life events.  This is exactly what happened in the Penguins classroom – the child was self-regulated (through skill development and practice) and in an executive state when he was attuned to the emotions of his friend and problem-solved to find a solution.